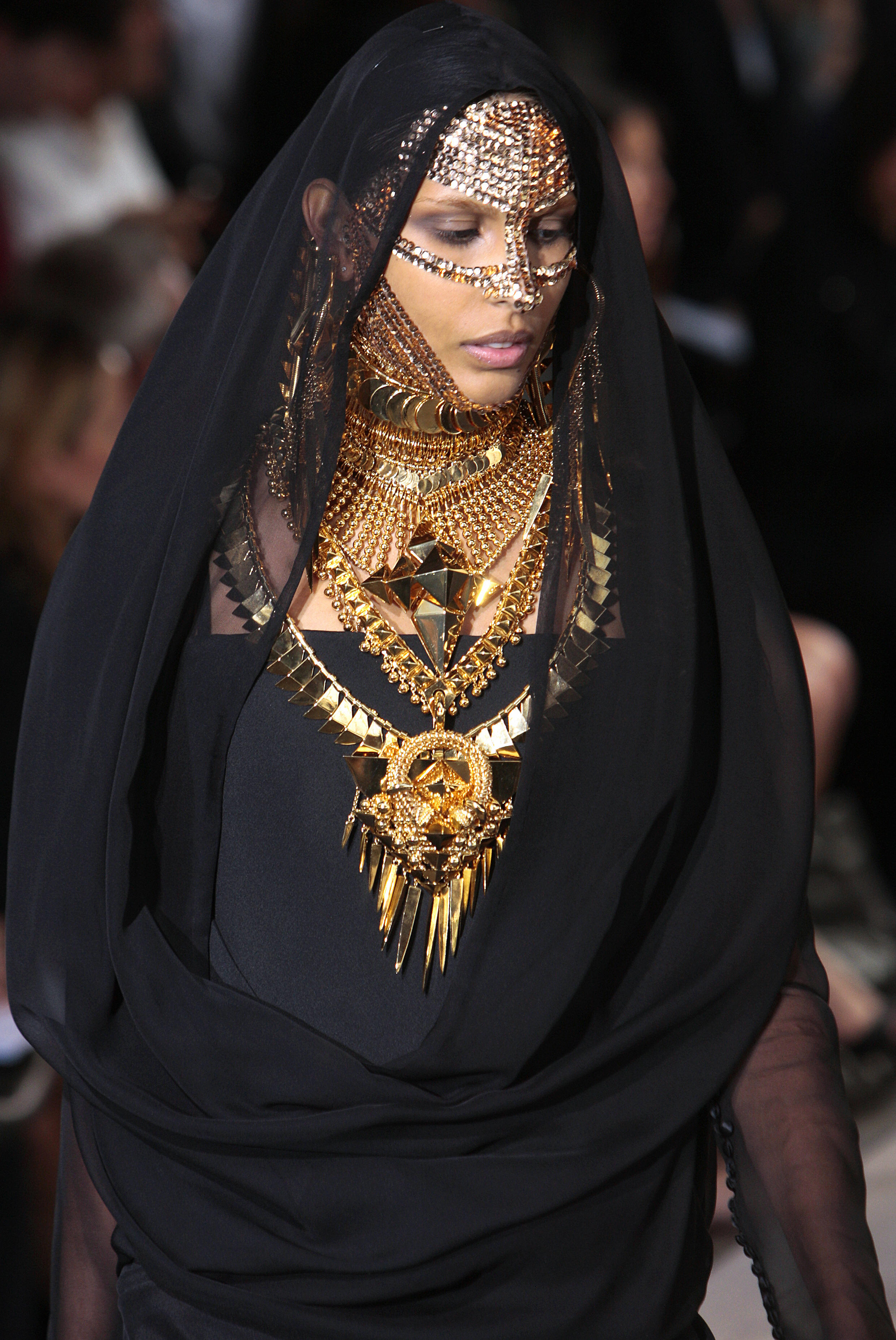 Just as France begins to consider
prohibiting
women from wearing
niqab
, or a full veil, fashion designer Riccardo Tisci features a very attractive young woman wearing a sort of pseudo-veil in his new collection for Givenchy, seen at left as shown in
The Globe and Mail.
The juxtaposition throws a spotlight on the place where fashion and ideas about modesty—religious or not—intersect. As I've said before here, wearing a veil may be a signal of Muslim belief in some quarters, but it doesn't stop women from caring about how they look.
And, as I've just learned, the veil is not only a Muslim thing. It has been a strategy to avoid harrassment in other places, and has gone through some interesting transformations elsewhere too.
I'm reading Louise Levathes'
fascinating
When China Ruled the Seas: The Treasure Fleet of the Dragon Throne, 1405-1433
as I research my book about the Portuguese
Making Waves
. After the great period of Chinese maritime adventure, its defences against attack from the sea declined until its coastal areas were prey for pirates and raiders in the 16th century, frequently called
wako
.
"China's coastal famers and fishermen...who had been robbed of their livelihood as well as, at times, their wives or daughters, never forgot the
wako
. Young girls in the Hui'an peninsula ... to this day tie blue scarfs tightly around their heads, hiding their faces...it has become the local fashion," she writes. "But the stories, passed down for generations in villages, of a time when yong women fled from the lecherous glances of the bandits who came from across the sea in ships with red sails, have not died."
Hui'an women are reputed for their beauty, and now wear very short
jackets
which show their navels along with their scarves. "Sexy Lady on the Sunny Beach – Hui'an Women" one
story
about their traditional dress says. Fashion trumps all!
Photos of Hui'an women from Chinavista.com and Chinaculture.org. Photo of Tisci creation from onsugar.com

Note from March 6, 2011: for more about Muslim women, the veil and female affirmation see "Good News from the Arab Spring Revolutions: "When Women Change, Everything Changes."