Jeanne's been around for the last few days, and I've rediscovered some of the great bits from Seasame Street. This one actually dates from some time after Elin and Lukas were Sesame Street age, but Jeanne thinks it's terrific. Obviously she loves music, which I suppose comes naturally, given her muscian mother and her melomane father.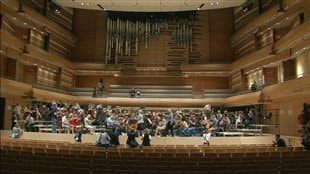 An early introduction to the joys of "classical" music is a great, audience-building endeavor. Nice to hear that crowds have turned out to catch the opening of Montreal's new symphony hall (
La Maison symphonique
) and the mini-oconcerts that members of the Orchestre symphonique de Montréal give while folks wait to visit and enjoy the new hall.